Excellence In Service Interviews Celebrity Hairstylist, Janet Jackson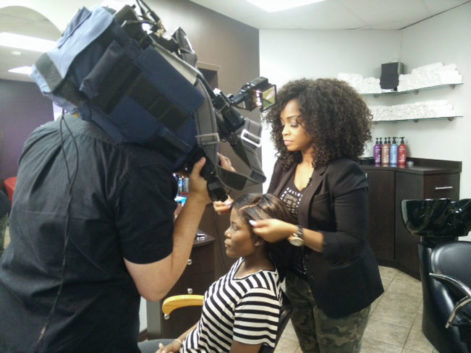 Full name:  Janet Jackson
Location:  375 Royal York Road, Toronto, Canada
Current title & Company:  Owner and CEO of  JouJou Hair Studio Inc.
Educational background: Certified Hairstylist for over 15 years
What was your first service related job, and how did you land it? Take us through your career bio.
I started out assisting in a salon many years ago part-time while I was going to college for (Social Work). This job consist of light duties such as answering the phone, washing hair and assisting other hairstylists that worked in the salon.  Next thing I knew… I had MY very own clientele.  Growing up I never planned to become a hairstylist…so it was a career I just happened to fall into, and instantly fell in love with.  It was then that I decided to go to George Brown College. I completed their Cosmetology Program and got my Hairstylist  License.
As for the celebrity/industry part of my career… I first started out by assisting one of my mentors, Buster Berkley. I started working in his salon later in my career as a hairstylist.  At the time Buster was working with celebrities and he also worked on many photo shoots, music videos..etc too.
Once I got a taste of the "Industry" part of hairstyling… That was it! I knew this career could go anywhere, and sky's the limit!!
During this time I then got myself signed up with an agency (Plutino Group) that represented other hairstylists, makeup artists, etc.. for projects such as magazines, photo shoots, television and so forth.
Since then my work has been featured in various magazines such as Elle Canada, FASHION, Flare and Wedding Bells. I have worked on television shows, commercials, Short Films and Music Videos.
I have had the opportunity to work  closely with celebrities at the JUNO's, BET Hip Hop Awards and MMVA's. I have been featured as a Beauty Expert on City Line, How to Look Good Naked Canada and Much Music's DisBand.  Worked on So You Think You Can Dance Canada;  as the lead hairstylist for Canada's Next Top Model and Iman's personal hair stylist for Project Runway Canada.
Aside from working with one of the world's most recognizable supermodels, I have had the pleasure of  working with Celebrities such as Usher, Miguel, Rita Ora, Keshia Chante, Pussycat Dolls, Kreesha Turner, Tracy Moore, Rosario Dawson, Fergie, Deborah Cox, and much more.
Read more